Product Description
If you're looking to maximize low end control and maintain a professional look, we recommend the GIK Acoustics Soffit Bass Trap.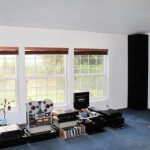 The Soffit Bass Trap, like all GIK Acoustics bass traps, was lab tested at the prestigious Riverbank Acoustical Laboratory and showed to have true effects at 50 Hz and below. It is over 50% more effective from 50 Hz to 100 Hz than even our best selling bass trap, the GIK Acoustics Tri-Trap. The Soffit Bass Trap has been effectively designed to absorb more low end; but also does an excellent job of absorbing the high end, creating smooth sound absorption from 5 0Hz to 5,000 Hz. Installing our Soffit Bass Traps will help balance the room response and decay times.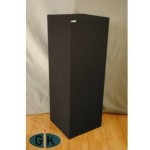 The Soffit Bass Trap can rest free standing in a corner or can be mounted where it will not take up floor space. The Soffit Bass Trap mounts on the wall-to-ceiling intersection with 2 screws mated with 2 keyhole slots creating a quick, clean, easy and professional-looking installation. Alternatively, they can also be hung in wall-to-wall corners using the same mounting method.  Click HERE to view the product video.
Features:
Professionally constructed with a LEED certified wood frame (made in the USA)
Manufactured with Columbia Forest Products formaldehyde-free technology
Easy installation for a clean, professional look
Multiple orientation options
Extended deep bass control
Lab tested to professional standards
Standard Size: 17″ x 46.5″ x 17″
Weight: 22 lbs
Can be customized to smaller lengths to finish off corner areas
Available in 9 standard GIK Acoustics fabric colors
Additional Guilford of Maine fabric choices available
9 STANDARD GIK ACOUSTICS FABRICS
7 STANDARD GUILFORD OF MAINE COLORS
DESIGNER GUILFORD OF MAINE PATTERNS
You may order any of these 10 Guilford of Maine colors right off the web site or contact us for a quote for any of the other Guilford of Maine FR701 colors, or for any Guilford of Maine fabrics.
See all Guilford of Maine FR701 colors here.